Date:
Thursday, 13 December 2012
Posted by:
Cycling Southland
Cycling Southland's incredible year was capped yesterday with the naming of three members as nominees for next year's Halberg Awards.
Eddie Dawkins is nominated for the Team of the Year award alongside his fellow Team Sprint cohorts Ethan Mitchell and Sam Webster.
The trio earned New Zealand's first sprint world championship medal in winning bronze at the Worlds in Melbourne at Easter.
Dawkins became the first New Zealander to break the magic 10 second barrier for the Flying 200 at the same championships.
Phillipa Gray's effort in winning the perfect set of medals at the London Paralympics alongside pilot Laura Fairweather, including their smashing of the world record in the Category B individual pursuit, has seen her earn nomination in the Disabled Sportsperson of the Year.
Alexandra's favourite cycling daughter, Sophie Williamson has been named in the Emerging Talent category after her double silver medals at the UCI Juniors Track World Championships in Invercargill and her fourth at the UCI Road World Championships in the Netherlands.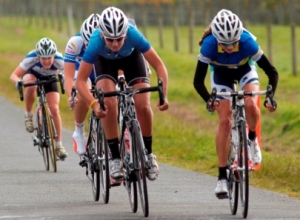 Other cyclists nominated include Jack Bauer, Westley Gough and Simon van Velthooven (Sportsman of the Year), Alison Shanks and Linda Villumsen (Sportswoman of the Year), Sam Bewley, Marc Ryan, Aaron Gate, Jesse Sergent and Westley Gough for the NZ Men's Team Pursuit (Team of the Year) and Dylan Kennett (Emerging Talent).
The voting panel will now vote to determine finalists which are announced on January 1st 2013. Any outstanding performances by individual athletes or teams are still considered until December 31, 2012.
The awards will be held in Auckland on Thursday, February 14.