Date:
Saturday, 05 May 2012
Posted by:
Cycling Southland
The one and only Brehan Cairns provides Saturday's (and Friday night's!) Tour Diary entry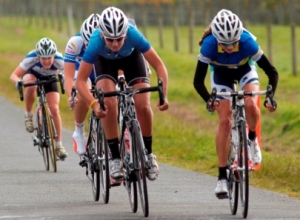 Hello readers :-) Today is Saturday and I am going to start this diary with the happenings of Friday night.
After some of the mainland boys (Editor's note: club name removed to protect reputations - just check Facebook to get all the details) decided to play ghost busters and a Somalian (or Egyptian we weren't quite sure) brawl outside of the holiday park, the excitement continued with snoring and more snoring. Yay.
This morning started with some breakfast at different times for all of us, whilst hearing about the excitement of other centres' riders throwing up all through the night or having a drunken cry (same club as above). Those of us who had to race were gone at 7.15am ready to race at 9am while the rest of us prepared for a training ride and other activities to fill in the day.
The girls raced hard in a tough field and did the best they could however at the end of the day it was Sophie Williamson who backed up her reputation.
Laura and Kylie lined up for the senior women's race, and after a week-long training camp as pilots on the tandems for the Paralympic team they raced awesomely to both finish in the top 10.
The big boys rode out to the course and on the way back decided to hire an XBOX for an afternoon of rest and relaxation showing mean rally skills while having a cuddle together on Brad's delux couch bed.
Tom and Paddy could be found having a romantic spa together with all of the loud driving noises becoming too much for them.
Tea was good again, the girls needed some master chef advice from the best looking boy in the holiday park but after he wowed them with his mad skills they were on their way with help from Debbie Mckenzie to whip up a mean feed of a le spag bol.
Bottles are ready and bikes are loaded up ready for 170km of hurties tomorrow (hurties coming from the Southland riders). Locked and loaded.
Chur to you all.
Brehan
CLUB NATIONALS LINKS
Full results and race reports: Thursday | Friday | Saturday | Sunday
Team Tour Diary Day 1 - Tue | Day 2 - Wed | Day 3 - Thu | Day 4 - Fri | Day 5 - Sat | Day 6 - Sun