Date:
Wednesday, 09 May 2012
Posted by:
Cycling Southland
Cycling Southland and New Zealand Junior track representative Sophie Williamson capped her junior road racing career in New Zealand with an incredible double in the Under 19 Women's Time Trial and Road Race at the Club Road Nationals in Hawkes Bay last week. Here's Soph's own race review.
I was pleased with my last age group nationals as a junior. It doesn't really seem that long ago that I was 12 and lining up for the U15 girls race in Palmerston North ... ha ha!
I was pretty happy with my Time Trial. The hilly course suited me and I managed to pull it off. After having a bad one at Oceanias, I wanted to do well up here and I am stoked to now be National Time Trial champion.
Then it was on to the road race.
I knew that I had to make it a hard race and the aim was to break away, so on the first lap I launched a series of attacks which narrowed the bunch down to 8.
Unfortunately my legs weren't playing along and I knew that without help I wasn't going to be able to keep it up. Not much happened on the second lap, a few accelerations but no one was going to let anyone go anywhere.
No one else really wanted to go break away either so it was more like a team time trial - just lapping with a few sitting on.
On the third lap it was my last chance to get away and I knew people were tired now, although I also knew how terrible I was feeling! Three of us almost got a break twice, but all it took was someone to not come through and the rhythm was ruined, it all slows and the people who are going all out to catch up end up doing so. It's frustrating when it happens and it meant it would all come down to a sprint finish.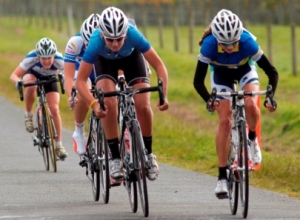 It was a bit of a funny sprint. While Cassie Cameron and I were watching each other at the back, someone rolled off the front and she had about 20 metres on us with less than a kilometre to go. I had made Cassie go in front and at 100 metres to go she jumped over the girl out front and then she had to start the sprint with me on her wheel. I managed to get around her in the last 50 metres altough she did make a come back towards the end, so I was pleased the line came towards us quickly!
It wasn't the most satisfying win, but I was still pleased to win at Nationals. All in all, it was a good champs and the last ever junior nationals for me!