Date:
Wednesday, 30 June 2010
Posted by:
Cycling Southland
Chapter 1: Into the Belly of the Beast.
Above: James Canny, Hamish Presbury, Sam Steele and Andy Hughson ready for the World Series ........ of Bicycling.
On Monday the 21st June Hamish Presbury, Sam Steele, Andy Hughson and Myself all met at Auckland International Airport for our 12hour flight to LA. It had been a few months since I saw the boys and I was pleased to see everyone in good shape and looking fit. First wee drama of the trip occurred even before we took off when I was pulled aside for a random search the boys thought this was a bit of a laugh.
Skip forward 30 hours and we touched down in JFK Airport New York. We were met by my Friend Andy Munis of Dynaflow Cycling Team who I had met whilst racing here last year and organized to pick us up and take us to our house which is situated in Kutztown, Pennslyvannia. So we set about putting our bikes together outside the terminal in 38 degree heat, somehow we managed to fit 9 Bikes, 4 riders, 8 helmets, all our luggage and 3 sets of spare wheels into a Subaru Legacy, what an effort (see below).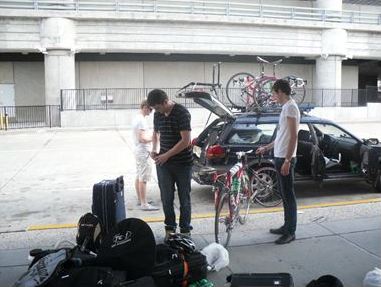 As you can see there wasn't a great deal of room to spare. But a tight squeeze for a bit and was a far better alternative than trying to negotiate New York's Port Authority Bus station.
So off to Kutztown we went. We arrived at the Valley Preferred Cycling Centre (Trexlertown) and dropped off our track bikes then 15miles down the road to Kutztown (aka cyclists paradise). Our house is a step up from last year's accommodation which we had fondly named "Little Mogadishu" for its resemblance to an apartment block from Black Hawk Down. This year we were living for three months an actual house with a lawn, in the words of Borat "very nice". We walked in the door, thanked Andy for the ride and gave him some money to fill up his car, then hit the hay (in our clothes on mattresses on the floor as there was no bedding). After about 4 hours sleep we all got up at 6am and put our road bikes together it was then off to Wallmart where we bought bedding, cleaning products, a Track Pump, chain oil and groceries all in the one store that's America for you.
We then had our first team bonding session which consisted of 6hours of scrubbing, sweeping, cleaning and rearranging. This is where we discovered our dungeon (Americans call them basements) but this had a dank dungeon feel about it, it looks like something out of one of the "Saw" horror movies, scary stuff. So we decided to nickname the house "Little Bosnia" as it seemed to fit the dungeon (complete with dodgy locked rooms) feel. The threat of sleeping a night in the Dungeon has an impressive impact on making sure each of us cleans our own dishes.
Above: They say basement we say dungeon........look carefully spot the locked door/torture chamber.
It was whilst inspecting the garage that I decided to play a wee trick on my Teammate (and team handyman) Andy Hughson who was busy fixing up the washing machine which wasn't in a good way, I yelled "snake" at the top of my lungs to which Andy dropped the part he was fiddling with and jumped a foot in the air with a worried shriek!! Us boys were on the floor in hysterics whilst poor Andy was threatening the devils wrath on me and muttering how much he hates bloody snakes. I have no doubt he will find the opportunity to get me back.
After making Little Bosnia spick and span we headed out for a training ride along the famous Crystal Caves route, when a family of Amish folk came towards us in their buggy, Sam and I (who have raced over here in 2009) thought nothing of it but it came as a surprise to Hamish or "Prince" (as we have nicknamed him for his boyish good looks) and Andy. Where we are situated is in the heart of Amish and Mennonite (slightly more relaxed version of the Amish) country and we regularly see them out and about. They are always very polite and return our waves and g'days with slightly bemused faces.
Today we also received our cool new kit sponsored by Champion Systems New Zealand. They have done a phenomenal job of it.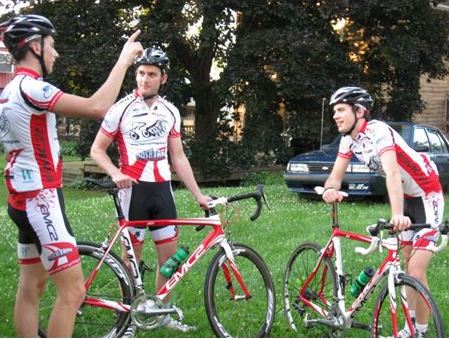 Above: The new Road Rigs EMC2 R 1.0 Equippe...............basically poetry in motion
After a couple more days of training and settling in we headed off to our first race of the season, this was the Red Robin BRL Allstar Finals Pro Track racing meet at Trexlertown. We had a very strong showing in the first couple of races where Hamish rode brilliantly to be first kiwi home in 5th place and Andy picked up 6th place in the win and out, awesome results considering we were less than a week into the season and struggling with Jetlag. We next had two Madison's (two man points race with hand slinging) one 40 lap and one 100 lap where Sam and Hamish team up and Andy and I rode together. Neither team made the podium and Sam crashed out which was a bit of a disappointment (he's fine just a few bruises). The race was deservedly won by American Olympian Jame Carney who teamed with Australian Star Clay Murfet. We spent an hour after the race signing autographs, the American fans are really genuine and positive about the racing, its bloody humbling to have them pat you on the back and ask us to sign a poster or tee shirt at the end of a hard night on the bike.
Above: The new kit
We got back to the house at 12pm had some pasta and called it a day. Next day was a brutal 4hour ride in 38degree temperatures with Kiwi Pro Paddy Bevin (who rides for American team Bissell). Later, we headed round to Donald Mente a local retired businessman and avid cycling enthusiast who was very good to us last year and this year has offered us a Vehicle for the duration of the trip. We turned up and he gave us the keys to a 2005 Chevy Silverado pick-up, a weapon of a truck. We also have a wee Toyota hatch to use as well. So in the transport department we are all set.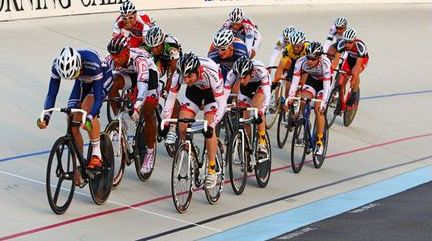 Above: Hamish and Myself tucked in Behind Andy "the animal" Hughson with a lap to go.
On Sunday we rode the 25km back roads to the Velodrome and met 100odd other riders for a twice weekly training race called the "Derby" which is ultra famous in these parts. The Derby consists of an out and back race, the out is at a comfortable pace while the back not so much in fact it's completed at break neck pace. The racing part is fierce with full fletched professionals such as Kyle Walmsey (Bissell), Jackie Simes (Jamis Sutterhome pro racing), Bobby Lea (Bahati Foundation) and Mike Friedman (Jelly Belly formerly Garmin) all regular riders. All our team rode well and we all finished comfortably in the 10man front bunch.
Above: Hamish loading the bikes onto "Big Black" our new Team Vehicle.
This week we have no Track racing but we have a Double header on the Road with a Gran Prix in New Jersey on Saturday and a Criterium in Philadelphia on Sunday. Everyone is really excited to test our road legs and get results straight away. Aaron arrives from Belgium in a week, and Eddie and Adam are getting ready to fly in from New Zealand soon (as part of the separate BikeNZ comm games preparation). So in a just over a weeks time nearly our entire squad will be here in Kutztown.
This is it for me, I have to head to the supermarket with the lads to stock up on pasta, rice, chicken and fruit but thanks once again for all the support and guidance to help get us this far. Don't forget to check us out on Facebook (search Team NZ Pro Cycling) and Twitter. We will also be updating our website very soon.
Next update in a week.
Kind Regards
James Canny