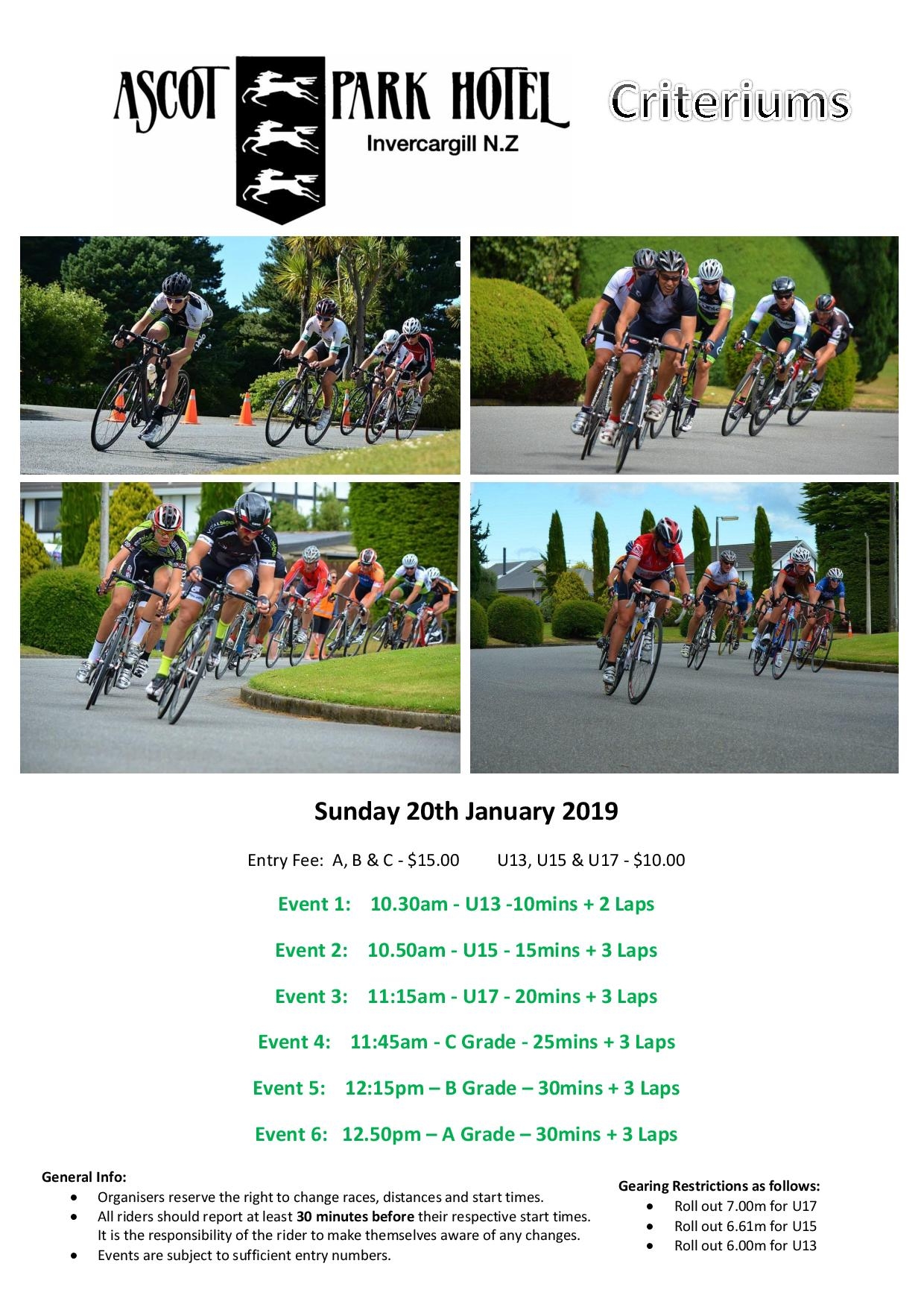 Don't forget to register for the ILT New Year Carnival on 18 and 19 January. Enter here now
Registrations for both events close 5pm, Sunday 13 January - A $10 late fee will then apply (If you do not pay at the event and we are required to invoice you, an additional penalty fee of $5 per person per event - both the Crit and Carnival - will be charged)
Entry Form
2016 Ascot Park Hotel Criteriums
The 2016 Ascot Park Hotel Criteriums will be held again on Sunday 24 January. Get your registrations in now for this great fun day.
2015 Ascot Park Hotel Criteriums
The 2015 Ascot Criteriums had 72 competitors take part across the five races on the day. Within the racing we saw a number of riders try to get clear of their opposition but in the end all of the races saw the honours being decided by a bunch kick.
Thanks to everyone that kindly gave up their day to assist, it was very much appreciated.
Our thanks to the Ascot Park Hotel for once again hosting the events and to the visiting riders for making the trip south.
Julian Ineson
Manager
RESULTS:
JUNIOR DIVISON 2
1st Ava Morrow
2nd Navarh Brotherston
3rd Connor Leov
4th Sami Donnelly
JUNIOR DIVISON 1
1st Kaine Bowles
2nd Samuel Miller
3rd Corbin Strong
4th Jared Pidcock
OPEN C GRADE
1st Tony Hammington
2nd Daryl Haggerty
3rd Ella Harris
4th Makayla Smith
OPEN B GRADE
1st Mike White
2nd Craig Domigan
3rd Steve Brough
4th Brendan Akeroyd
OPEN A GRADE
1st Patrick Jones
2nd Tom Sexton
3rd Hayden Strong
4th Josh Haggerty
Event 1: 10:00am JU15/17 Division 2 - 10 min. plus 3 laps
Event 2: 10:20am JU15/17 Division 1 - 20 min plus 3 laps
Event 3: 11:00am Open Division 3 – 25 min plus 3 laps
Event 4: 11:40am Open Division 2 – 30 min plus 3 laps
Event 5: 12:30pm Open Division 1 – 35 min plus 3 laps
FINE-PRINT
• Organisers reserve the right to change distances and start times. All riders should report at least 30 minutes before their respective start times. It is the responsibility of the rider to make themselves aware of any changes.
• All competitors must have their 2015 licence with them to receive their race number.
• Numbers are to be returned immediately after your race.
• All competitors must sign in at least 30 minutes prior to race start.
• Presentations will be held in the Ascot at approx 2.00pm.
• Events are subject to sufficient entry numbers.
• Entries close Thursday 15 January at midday.




ASCOT PARK HOTEL CRITERIUM RACE REPORT 2014
Breezy but fine conditions greeted riders for the 2014 New Year Ascot Park Hotel Criterium.

First off were the U13 and U15 riders, with a stellar ride from Timaru rider Connor Leov seeing him take the U13 title from locals Hunter Gough and Josh Miller.
Strong Christchurch riders Sammi Olge and Jessie Banks took out the U15 girls race from Madeline Gough.

Hamish Keast was dominant from the start of the U15 boys race, lapping the field and taking the win, with 2nd and 3rd coming down to a sprint between the chasers, Corbin Strong taking 2nd place from Jared Pidcock.

The U17 racing was fast and furious, with Christchurch rider Christine Lambley breaking away to take the win in the girls division from local track star Emma Cumming, with Isabella Smith in 3rd.
The boys race was incredibly fast, with a break of three riders quickly establishing a solid lead, Brayden Stephens unleashing an excellent sprint to take the win from Hayden Strong and Tom Sexton.

In the Division 3 race Kylea Gough took the win convincingly from sister Nicola Stevens and Shona Proctor McGrath.
Up and coming track star Kirstie James took the Division 3 win from strong local crit rider Daryl Haggerty and Craig Sadlier.

Local masters hero Mike White took the win in an excellent Division 2 race, with Timaru rider Craig Domigan 2nd from Jake Marryatt.

The Division 1 race also saw the pace on from the gun, with James Williamson and Andy van der Hayden establishing an early break, soon joined by Josh Haggerty, eventually taking a lap on the field. Van der Hayden and Williamson then continued straight through the field and off the front again, taking a 2nd lap, with Williamson eventually taking the win from van der Hayden, leaving Haggerty for 3rd.

The New Year Cycling Series concludes tonight with the 86th Gore to Invercargill 66km Classic Senior Road Race.

Ascot Park Hotel Criterium Results
U13
1 Connor Leov
2 Hunter Gough
3 Josh Miller

U15 Girls
1 Jesse Banks
2 Sammi Olge
3 Madeline Gough

U15 Boys
1 Hamish Keast
2 Corbin Strong
3 Jared Pidcock

U17 Girls
1 Christine Lambley
2 Emma Cumming
3 Isabella Smith

U17 Boys
1 Brayden Stephens
2 Hayden Strong
3 Tom Sexton

Division 4
1 Kylea Gough
2 Nicola Stevens
3 Shona Proctor-McGrath

Division 3
1 Kirstie James
2 Daryl Haggerty
3 Craig Sadlier

Division 2
1 Mike White
2 Craig Domigan
3 Jake Marryatt

Division 1
1 James Williamson
2 Andy van der Hayden
3 Josh Haggerty
ALL DAY ACTION AT 2013 CRIT
20/1/2013 - Cycling Southland's annual ILT New Year Cycling Series continued today with the Ascot Park Hotel Criterium.
After early morning rain the day cleared nicely for the 10am start although riders had to contend with blustery conditions throughout racing.