2014 Results
Club Champs done!
While the weather wasn't the greatest for the Time Trial on Saturday, it was perfect cool conditions on Sunday for the road race.
A huge thank you to all who have assisted over the weekend - your help was much appreciated. Congratulations to all of the winners and those who fought on regardless - a good test of mental toughness.
Results:
Cycling Southland 2014 Club Champs
Individual Time Trial
10km
U13 Boys - 1st Hunter Gough 25:24
15km
U15 Girls - 1st Emily Paterson 30:54
2nd Madeleine Gough 31:14
U15 Boys - 1st Hamish Keast 23:54
2nd Corbin Strong 27:01
3rd Bradley Jenner 31:02
4th Turk Turnbull 32:21
U17 Girls - 1st Kendall Kilpatrick 27:27
2nd Emma Cumming 28:40
U17 Boys - 1st Tom Sexton 23:26
2nd Samuel Miller 23:43
3rd Jack Pedler 24:20, 4th Matt Nunn, 5th Hayden Strong, 6th Hamish Beadle, 7th Mitchell Morris
U19 Girls - 1st Kate Wilson 32:06
U19 Boys 25km - 1st Nicholas Kergozou 32:53, 2nd Anton O'Connell 34:04, 3rd Josh van den Arend 35:15
Masters Women
1st Erin Criglington 40:43, 2nd Nicola Stevens 43:06, 3rd, Shirlene Rollo 43:46, 4th Kerry Cox, 5th Marie Muhl
Masters Women 6 - 15km
1st Mary Marshall 32:57
Masters Men 35-44yrs - 25km - 1st Andrew Lienert 35:25, 2nd Derek Tan 35:43, 3rd Stephen Keast 35:48, 4th Vaughan Edie, 5th Rikki Griffin, 6th Jamie Cunningham
Masters Men 45+ yrs
1st Aaron Sinclair 37:25, 2nd Mark Day 37:27, 3rd Neil Familton 37:43, 4th Andrew Holden, 5th Sier Vermunt, 6th Alan Strong
Masters Men 6-8 - 15km
1st John Alabaster 21:19, 2nd Ray Robinson 23:20, 3rd Peter Grandiek 38:12
Elite Men - 40km - 1st Cam Karwowski 50:21, 2nd Matt Zenovich 50:38, 3rd Luke Macpherson 55:05
Road Race Results
U13 Boys - 1st Hunter Gough, 2nd Josh Miller
U15 Boys - 1st Hamish Keast, 2nd Corbin Strong
U15 Girls - 1st Madeleine Gough, 2nd Emily Paterson
U17 Boys - 1st Hayden Strong, 2nd Tom Sexton, 3rd Sam Miller, 4th Jack Pedler, 5th Matt Nunn
U17 Girls - 1st Emma Cumming, 2nd Kendall Kilpatrick
U19 Boys- 1st Nick Kergozou, 2nd Anton O'Connell, 3rd Josh van den Arend
U19 Girls - 1st Laura Heywood, 2nd Kate Wilson
Masters Men 35yr-44yr - 1st Brendan Akeroyd, 2nd Rikki Griffin, 3rd Vaughan Edie, 4th Derek Tan, 5th Alistair Burnett, 6th Andrew Lienert
Masters Men 45yr + - 1st Garry Smith, 2nd John Alabaster, 3rd Steve Brough, 4th Neil Familton, 5th Aaron Sinclair, 6th Andrew Holden, 7th Wayne Miller, 8th Bruce Jones
Masters Women - 1st Erin Criglington, 2nd Shirlene Rollo, 3rd Nicola Stevens, 4th Kerry Cox, 5th Mary Marshall
Open/Elite Men - 1st Cameron Karwowski, 2nd Josh Haggerty, 3rd Matt Zenovich, 4th Luke Macpherson, 5th Jamie Wilson
Open/Elite Women - 1st Danielle Ralph
Race report courtesy of super duper Waine Harding
The 2013 Southland Road Champs are to be held on the weekend of 6-7 April. The Time Trail Championships will be held on an out and back course from McQuarrie Street on Gorge Road with the Road Race Championships at Te Tipua on the New Vale Coal circuit on Sunday 7 April.
SOUTHLAND ROAD CHAMPS ENJOY PERFECT CONDITIONS
The Southland road cycling champions were decided in Te Tipua on Sunday in near perfect conditions. Medals were handed out across 11 seperate age categories with some closely fought racing across the grades.
Hunter Gough and Josh Miller engaged in yet another close battle in the Under 13 Boys with Gough reversing the tables from Saturday's Time Trial with a five second victory while older sister Madeleine added the Under 15 girls road race title to her burgeoning list of cycling achievements.
Corbin Strong took the Under 15 Boys title over Hamish Keast with a well-timed final sprint with multiple national track champion Kain Bowles earning bronze, four seconds back. The Under 17 boys turned in to a three way battle with Tom Sexton holding Hayden Strong at bay in the final sprint to take gold, with Hamish Beadle finishing third, 19 seconds adrift of the top two.
Makayla Smith completed a perfect weekend, backing up her commanding time trial win with an equally impressive 2:14 victory in the road race. Emma Cumming finished second with Lucy Timpany earning a bronze medal.
Derek Tan kicked clear of Alistair Burnett to take a four second win in the Masters 35-44 Men with Andrew Lienert third across the line, while Neil Familton timed his final sprint to perfection to jump in front of Steve Brough in the final metres to take the gold. Aaron Sinclair claimed bronze, just five seconds later.
Erin Criglington was again in little difficulty in the Masters Women's grade, adding another gold to her collection with a 1:15 victory over Shirlene Rollo, with Sam Kopae taking the third medal. Aimee Burns took out the Elite Women's title from Sequoia Cooper while Luke Macpherson and Josh Haggerty made it a time trial/road race double in the Elite Men and Under 19 Men respectively, Haggerty taking the sprint finish from Liam Aitcheson with Nick Kergozou earning the under 19 bronze.
Attention now switches to the Club Road Nationals to be held in Queenstown from April 18 to 21.
SOUTHLAND TIME TRIAL CHAMPIONS CROWNED
6/04/2013 - The 2013 Southland Time Trial Championships were held on near perfect conditions on McQuarrie Street today. 44 riders tested themselves against the clock with some eye-catching rides, two weeks out from the Club Road Nationals in Queenstown.
Titles were handed out across 13 age categories, from Under 13 to Masters 6 with the challenging Gorge Road course providing a key benchmark for riders eyeing nationals.
Josh Miller started the day, pipping Hunter Gough by less than two seconds over their 10 kilometre Under 13 time trial, while Madeleine Gough completed the fastest 10km of the day, winning the Under 15 Girls in 22:42.
Hamish Keast turned in another strong ride in winning the Under 15 boys event by more than a minute, averaging 34.77 km/h to take gold ahead of Corbin Strong and Samuel Miller. Mary Marshall and Peter Grandiek also both earned deserved gold medals in the Masters 6 category, completing their 15 kilometres in 31:00 and 37:36 respectively.
Makayla Smith turned in one of the rides of the day to win the Under 17 girls 15km time trial by over three minutes. Her time of 25:51 saw her average a shade under 35 km/h to earn the gold medal with Alex Bodle taking silver and Lucy Timapany bronze.
The Under 17 boys medals were decided by mere seconds. Tom Sexton shaded Brayden Stephens by four seconds to take gold with a winning time over 15 kilometres of 23:56 (37.6km/h) while Hayden Strong and Hamish Beadle were seperated by a solitary second in the battle for bronze. Strong snuck in front for the final medal in 25:05.
Kate Wilson took out the Under 19 Women's event in 30:14 while Luke Macpherson, fresh from his impressive runner-up finish in the Vital Signs Tour de Lakes, took out the Elite Men's gold over 40 kilometres, averaging 41.75km/h in recording 57:29.
Erin Criglington cut out her 25 kilometres to win the Masters Women gold by nearly three minutes in 41:07 (36.48 km/h) with Kylea Gough earning silver in a gutsy performance, given recent illness, and Sam Kopae pipping Shirlene Rollo for bronze.
Sier Vermunt could lay claim to the ride of the day, recording the fastest Masters time of the day in winning the 45-plus category. He averaged 39.7 km/h to record 37:47 with Neil Familton breathing down his neck in second, just five seconds adrift and Andrew Ward taking bronze in 40:05. Derek Tan took out the 35-44 Masters in 37:49 with Andrew Lienert taking silver.
Junior World Track team mates Josh Haggerty and Liam Aitcheson pushed each other all the way to the line in the Under 19 Men. After 25 kilometres, Haggerty took gold by 17 seconds with a winning time of 35 minutes (42.86 km/h average speed) with Aitcheson winning silver and Nick Kergozou bronze.
The Southland Road Championships conclude with the Road Race Championships at Te Tipua on Sunday.
SOUTHLAND ROAD CHAMPIONSHIP - 7 APRIL
Racing will start from 10:00am over the following grades:
| | | | |
| --- | --- | --- | --- |
| Race 1 | | | |
| U15 Boys | 34km | 2 laps | 10:00am |
| Race 2 | | | |
| U13 Boys | 17km | 1 lap | 10:05am |
| U15 Girls | 17km | 1 lap | |
| Race 3 | | | |
| U17 Boys | 51km | 3 laps | 10:30am |
| Race 4 | | | |
| U17 Girls | 34km | 2 laps | 10:35am |
| Race 5 | | | |
| Masters 1 & 2 Men (35-44 years) | 68km | 4 laps | 11:15am approx |
| Elite Women | 68km | 4 laps | once U15s finish |
| Race 6 | | | |
| Masters 3+ Men (45 years and above) | 51km | 3 laps | 11:20am approx |
| Race 7 | | | |
| Masters Women | 34km | 2 laps | 11:25am approx |
| Race 8 | | | |
| Elite & U19 Men | 85km | 5 laps | 12:00pm approx |
| | | | once U17s finish |
2012 SOUTHLAND ROAD CHAMPS VIDEO HIGHLIGHTS
2012 Road Race Results
Congratulations to our 2012 Road Champions after the Southland Road Championships were held at Te Tipua on Saturday 31 March.
Under 15 - Hamish Beadle 1, Hayden Strong 2, Tom Sexton 3;
Under 17 Girls - Laura Heywood 1, Georgia Vessey 2, Mikayla Smith 3;
Under 17 Boys - Mike Culling 1, Nick Kergozou 2, Josh van den Arend 3;
Masters Women - Erin Criglington 1, Shirlene Rollo 2, Kylea Gough 3;
Masters 1&2 Men - Derek Tan 1, Mike White 2, Garry Smith 3;
Masters 3+ Men - Dave Beadle 1, Geoff van Dam 2, Neil Familton 3;
Under19 Women - Georgia Timpany 1, Jennifer Muhl 2;
Elite Women - Kylie Young 1, Laura Thompson 2;
Under 19 Men - Ryan Mackay 1, Matt Zenovich 2, Josh Haggerty 3;
Under 23 & Elite Men - Brad Tuhi 1; Marcel Baird 2; Nick Atkinson 3.
ROAD RACE PROGRAMME - 31 MARCH
Racing starts from 10:00am over the following grades:
| | | | |
| --- | --- | --- | --- |
| Race 1 | | | |
| U15 Girls | 17km | 1 lap | 10:00am |
| U15 Boys | 34km | 2 laps | 10:00am |
| Race 2 | | | |
| U17 Boys | 51km | 3 laps | 10:30am |
| Race 3 | | | |
| U17 Girls | 34km | 2 laps | 10:35am |
| Race 4 | | | |
| Masters 1 & 2 Men (35-44 years) | 68km | 4 laps | 11:15am approx |
| Race 5 | | | once U15s finish |
| Masters 3+ Men (45 years and above) | 51km | 3 laps | 11:20am approx |
| Race 6 | | | |
| Masters Women | 34km | 2 laps | 11:25am approx |
| Race 7 | | | |
| Elite, U23 & U19 Men | 85km | 5 laps | 12:00pm approx |
| Race 8 | | | once U17s finish |
| Elite & U19 Women | 68km | 4 laps | 12:05pm approx |
ARCHIVE: 2011 Road Champs
27/03/2011 - The weather gods had the major say during Cycling Southland's annual Southland Road Championships held over the weekend. Yesterday was a real battle of attrition as riders battled heavy rain and strong southerlies around their curcuit course at Wyndham.
Dillon Bennett took out the Senior Men title with a powerful ride to beat home Brehan Cairns and Nick Rice for the gold medal over their 110 kilometre journey while Mat Zenovich was the last Under 19 standing after their three laps.
Kylie Young defended her Senior Women's crown while Josh Haggerty backed up from his dominant time trial on Saturday to also take out the road race from a gallant Nick Kergozou-De La Boess.
The Under 17 Girld saw one of the best finishes of the day as Jen Muhl edged ahead of Georgia Vessey in a sprint finish down Wyndham's Main Street.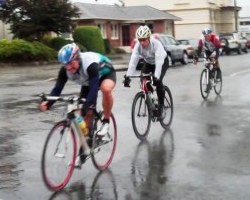 Erin Criglington took out the afternoon's Masters Women race from Shirlene Rollo while Michael White powered home to claim the Masters Men 35-44 gold, with Garry Smith taking silver and Derek Tan bronze. Another sprint finish in the Masters Men 45+ category went the way of Dave Beadle, ahead of Steve Brough and Neil Familton.
The Under 13 and 15 races were postponed to be held at a later date.
Video Highlights
Full Road Race Results
Under 17 Girls (36km)
1. Jennifer Muhl 1'09'10
2. Georgia Vessey
Under 17 Boys (36km)
1. Josh Haggerty 1'02'30
2. Nick Kergozou De La Boess
Masters Women (36km)
1. Erin Criglington 1'09'10
2. Shirlene Rollo
3. Kylea Gough
4. Nicola Stevens
Masters Men 45+ (73km)
1. Dave Beadle 2'14'35
2. Steve Brough
3. Neil Familton
4. Brendan Monaghan
Masters Men 35-44 (73km)
1. Michael White 2'07'10
2. Garry Smith
3. Derek Tan
4. Shane Fletcher
Senior Women (73km)
1. Kylie Young 2'37'20
Under 19 Men (110km)
1. Mat Zenovich 3'00'33
Senior Men (110km)
1. Dillon Bennett 3'00'18
2. Brehan Cairns
3. Nick Rice
4. Blake Tait-Jones
5. Nick Atkinson
6. Kieran Caldwell
2011 Time Trial Championships
26/03/2011 - The Southland Road Championships began today with the Time Trial Champs held on the Waianawa Circuit. Persistent rain made for trying conditions as Southland titles were handed out across 13 different age group categories.
The early junior races saw comfortable wins for Maddy Gough, Lachlan and Bronwyn Graham and Liam Haggerty, who transfered his strong track form onto a blistering ride on the road. The Under 17 Girls saw one of the closest battles of the day, Jen Muhl shading Georgia Vessey by just 11 seconds, while Josh Haggerty took his younger brother's lead to dominate his fellow Under 17 riders.
Sarah Tomlinson was crowned Under 19 Women's champion while there were three clear cut Masters winners - Erin Criglington (Women), Ray Robinson (45+) and Derek Tan (35-44). Tan's time was particularly impressive, being the fastest recorded for three laps for the whole day.
Kylie Young took the Senior Women win while Mat Zenovich took out the Under 19 Men's title with Tom Vessey, Jamie Culling and Paddy Daly fighting it out for the other podium spots. The Senior Men's race was controlled from start to finish by Simon Croom, who finished nearly a minute ahead of his closest rival. Dillon Bennett ripped home to make up nearly 30 seconds on his final lap to claim silver over Brehan Cairns in third.
FULL TIME TRAIL RESULTS
Under 13 Girls (9km)
1st Madeleine Gough 18'59.4
2nd Devon Marshall 19'49.4
Under 13 Boys (9km)
1st Lachlan Graham 17'11.0
2nd Corbin Strong 17'31.5
3rd Hunter Gough 20'31.5
4th Ronan Ferguson 20'45.4
Under 15 Girls (18km)
1st Bronwyn Graham 35'39.5
Under 15 Boys (18km)
1st Liam Haggerty 28'57.6
2nd Hamish Beadle 29'52.4
3rd Thomas Sexton 31'09.9
4th Brayden Stephens 31'51.4
5th Reece Havenaar 32'29.7
Under 17 Girls (18km)
1st Jennifer Muhl 29'39.3
2nd Georgia Vessey 29'50.3
3rd Laura Heywood 30'34.8
4th Monique Raggett 31'39.7
Under 17 Boys (18km)
1st Joshua Haggerty 25'17.8
2nd Nick Kergozou De La Boess 27'02.3
3rd Jeremy Presbury 28'30.1
Under 19 Women (18km)
1st Sarah Tomlinson 31'03.1
Masters Women (18km)
1st Erin Criglington 28'04.0
2nd Kylea Gough 29'05.3
3rd Shirlene Rollo 30'05.3
4th Kate Tomlinson 30'21.4
5th Nicola Stevens 32'03.7
Masters Men 45+ (27km)
1st Ray Robinson 39'50.6
2nd Mark Day 41'43.0
3rd Daryl Haggerty 46'55.8
4th Peter Grandiek 1'02'14.3
Masters Men 35-44 (27km)
1st Derek Tan 37'12.2
2nd Andrew Lienert 40'32.6
3rd Alistair Burnett 40'59.0
4th Alan Strong 42'07.6
5th John Andrews 43'59.8
Senior Women (27km)
1st Kylie Young 45'01.7
Under 19 Men (27km)
1st Mathew Zenovich 37'29.1
2nd Tom Vessey 38'31.0
3rd Jamie Culling 38'58.2
4th Paddy Daly 39'23.7
5th Tom Beadle 40'07.2
6th Ethan Thwaites 40'20.9
7th Logan Havenaar 40'27.7
8th Christopher Sexton 41'57.6
DNF Pieter Bulling
Senior Men (36km)
1st Simon Croom 49'29.3
2nd Dillon Bennett 50'26.3
3rd Brehan Cairns 50'48.5
4th Lachlan Shannon 53'29.3
5th Blake Tait-Jones 54'06.2
Archive: 2010 Southland Road Champs
Cycling Southland hosted its annual Southland Road Race Championships over the weekend in blustery but mainly fine conditions with titles being handed out across 13 age-group categories.
Saturday featured an individual time trial, out and back on the Gorge Road Highway, while Sunday saw riders complete circuits over Mabel Bush, Hedgehope, Springhills circuit.
The weekend was notable for the return of World Cup gold medallist Tom Scully who continued his return following an injury-induced layoff, by doubling up to claim both Senior Men's titles. He was pushed hard on both days by Scott Cunningham who finished just three seconds behind Scully in the 40 kilometre time trial. Cunningham pushed hard in the road race breaking away solo to lead by nearly a minute at one stage before Scully and impressive Under 19 Men's winner Blake Tait-Jones closed him down over the final 30 kilometres, Scully winning the final sprint.
Other notable performances included a powerful finish by Scully's coach Jerard Stock to win the Masters 35-44 Men's race and a strong three-man breakaway by Neil Familton (1st), Dave Beadle (2nd) and Dave Watkins (3rd) in the Masters 45+ road race. The three worked well together to stay away and share the medals.
Kylie Young and Erin Criglington proved their favouritism tags were well-deserved, winning both events in the Senior and Masters Women categories respectively. Double victories were also completed by Kelsey Timpany (under 19 Women), Matt Zenovich (Under 17 Boys), Michael Culling (Under 15 Boys), Hayden Strong (Under 13 Boys) and Madeleine Gough (Under 13 Girls).
Cycling Southland's club racing programme takes a break this weekend with the club hosting the 26th Yunca Junior Tour being held from Friday to Sunday with a record field of over 160 junior riders.
Southland Time Trail Championship – Gorge Road Highway 25/9/10
Under 13 Girls 10km
1st Madeleine Gough 28'21
Under 13 Boys 10km
1st Hayden Strong 19'26
2nd Hamish Beadle 20'02
3rd Tom Sexton 20'52
4th Caleb Hope 22'28
Under 15 Girls 15km
1st Sophie McMurdo 27'44
2nd Laura Heywood 28'17
3rd Brooke Brazier 29'52
4th Libby Bayne 30'39
Under 15 Boys 15km
1st Michael Culling 24'35
2nd Nicholas Kergozou 24'44
Under 17 Girls 15km
1st Jennifer Muhl 25'32
2nd Kate Dunlevey 26'56
3rd Monikue Raggett 27'34
4th Georgia Timpany 28'55
Under 17 Boys 15km
1st Matt Zenovich 21'28
2nd Tom Beadle 22'34
3rd Josh Haggerty 23'00
4th Ethan Thwaites 45'22
Under 19 Women 15km
1st Kelsey Timpany 25'03
2nd Paigan Marshall 28'05
Under 19 Men 25km
1st Jamie Culling 38'47
2nd Blake Tait-Jones 39'07
3rd Logan Havenaar 41'28
Masters Women 25km
1st Erin Criglington 41'13
2nd Kylea Gough 44'50
3rd Marie Muhl 45'43
4th Shirlene Rollo 45'53
Masters Men (35-44) 25km
1st Derek Tan 36'26
2nd Andrew Lienert 38'11
3rd Daryl Cleghorn 39'24
Masters Men (45+) 25km
1st Sier Vermunt 37'06
2nd Neil Familton 38'11
3rd Dave Beadle 41'00
Masters Men (75+) 25km
1st Peter Grandiek 1'06'58
Senior Women 25km
1st Kylie Young 39'12
Senior Men 40km
1st Tom Scully 55'17
2nd Scott Cunningham 55'20
3rd Rikki Griffin 1'06'46
Southland Road Race Championship – Mabel Bush 26/9/10
Under 13 Girls 20km
1st Madeleine Gough 30'40
Under 13 Boys 20km
1st Hayden Strong 20'54
2nd Tom Sexton 21'13
3rd Caleb Hope 23'33
Under 15 Girls 38.2km
1st Brooke Brazier 1'22'56
Under 15 Boys 38.2km
1st Michael Culling 1'07'02
2nd Nick Kergozou 1'08'36
Under 17 Girls 38.2km
1st Kate Dunlevey 1'11'05
2nd Jennifer Muhl 1'11'07
3rd Georgia Timpany 1'15'41
4th Monikue Raggett 1'24'42
Under 17 Boys 52.4km
1st Matt Zenovich 1'18'37
2nd Tom Beadle 1'20'04
3rd Josh Haggerty 1'30'27
4th Ethan Thwaites 1'30'27
Under 19 Women 76km
1st Kelsey Timpany 2'38'03
DNF Paigan Marshall
Under 19 Men 114km
1st Blake Tait-Jones 3'09'46
2nd Jamie Culling 3'28'05
DNF Logan Havenaar
Masters Women 38.2km
1st Erin Criglington 1'07'39
2nd Shirlene Rollo 1'11'05
3rd Sam Kopae 1'11'17
4th Kylea Gough 1'12'52
5th Marie Muhl 1'20'02
Masters Men (35-44) 76km
1st Jerard Stock 2'09'27
2nd Aaron Sinclair 2'09'30
3rd Derek Tan 2'09'30
4th Andrew Ballantyne 2'09'38
5th Alan Strong 2'10'27
6th Aaron Bleakley 2'10'27
Masters Men (45+) 76km
1st Neil Familton 2'13'38
2nd Dave Beadle 2'13'40
3rd Dave Watkins 2'13'42
4th Steve Brough 2'16'14
5th Sier Vermunt 2'16'35
6th John Doonan 2'29'36
DNF Wally Kopae, Peter Leighton
Senior Women 76km
1st Kylie Young 2'20'53
DNF Laura Thompson
Senior Men 114km
1st Tom Scully 3'09'40
2nd Scott Cunningham 3'09'40
3rd Adam Stockwell 3'28'05
DNF Matt Dodds, Rikki Griffin, James Fairweather
VIDEO HIGHLIGHTS TIME TRIAL CHAMPS
VIDEO HIGHLIGHTS ROAD RACE CHAMPS