Friday 29th March - Monday 1st April 2013
2013 winners confirmed after memorable tour
Five Rivers will hold a special place in Alex McGregor's heart after the 22 year old Dunedin rider made Tour-winning moves on the two stages to the sleepy northern Southland village in A Grade on the Vital Signs Tour de Lakes held over Easter.
McGregor found himself in the Tour leaders' yellow jersey after being part of a five man breakaway on Saturday's first road stage to Five Rivers which took over 2 minutes out of the rest of the field. Then, during the return leg from Te Anau to Five Rivers on Easter Sunday, he was one of four riders who again got up the road and stayed away to reclaim the coveted leader's jersey from Invercargill's Luke Macpherson and open up a lead on his nearest rival which would not be challenged.
Macpherson tried valiantly to break clear on this afternoon's (Monday) final stage from Glenorchy to Moke Lake and although he was able to finish 17 seconds in front of McGregor in a two-man break with stage winner Richard Lawson, it wasn't enough to deny an overall McGregor victory by 1 minute 29 seconds. Macpherson completed his first major multi-stage tour admirably, finishing second while Canterbury youngster Sam Friend also impressed with a consistent performance to secure third. Matt Zenovich claimed the Sprint Ace jersey and Tom Hubbard secured the King of the Mountain.
B Grade again proved to be the most hotly-contested classification with early Tour leader Glenn Gould coming from 8 seconds down heading into the final stage to finish third up the climb to Moke Lake and leap-frog Tour sponsor Michael White into the top spot, ultimately winning by a margin of 28 seconds. Geoff Keogh's seventh place finish in the final stage was enough to jump into third overall, a minute and a half behind the winner. Lee Johnstone was crowned B grade Sprint Ace and Nicholas Ross win in the final stage confirmed a comfortable King of the Mountain victory.
Former World Ironman champion Scott Molina made his move during Sunday morning's individual time trial and once he hit the front he defended every move, winning the final stage solo by over two minutes to put an exclamation mark on his 3'59 second C Grade win. Andrew Lienert took second overall and the King of the Mountain jersey, while a strong finish by Symon Mitchell saw him jump onto the podium in third. Double stage winner Jordan Gilmore took out the Sprint classification.
Linda Villumsen took control of the second half of the women's race, recording the fastest individual time trial by 1 minute 40 on Sunday and then finished in the front bunch in the fourth and fifth stages before riding away to an impressive 5 minute solo win on the final stage to confirm her overall win by 7'33 alonmg with the Queen of the Mountain title. Laura Fairweather confirmed second overall with her second place on the last stage, while Gabby Vermunt's third place on the last leg saw her claim the last podium spot. Lauren Ellis completed the Benchmark Homes clean-sweep of the jerseys in claiming the Sprint Ace win.
FINAL GENERAL CLASSIFICATIONS
| | A GRADE | | | B GRADE | |
| --- | --- | --- | --- | --- | --- |
| 1 | Alex McGregor | 8hr23'03" | 1 | Glenn Gould | 8hr59'36" |
| 2 | Luke MacPherson | @ 1'29" | 2 | Michael White | @ 28" |
| 3 | Sam Friend | @ 2'07" | 3 | Geoff Keogh | @ 1'30" |
| 4 | Scott Thomas | @ 2'33" | 4 | Lee Johnstone | @ 2'17" |
| 5 | Tim Rush | @ 2'47" | 5 | Geoff Taylor | @ 2'32" |
| | C GRADE | | | WOMEN'S GRADE | |
| 1 | Scott Molina | 8hr38'13" | 1 | Linda Villumsen | 8hr56'37" |
| 2 | Andrew Lienert | @ 3'59" | 2 | Laura Fairweather | @ 7'33" |
| 3 | Symon Mitchell | @ 4'08" | 3 | Gabrielle Vermunt | @ 8'16" |
| 4 | Jordan Gilmore | @ 4'21" | 4 | Elyse Fraser | @ 11'03" |
| 5 | Dave Lawson | @ 4'40" | 5 | Hayley Mercer | @ 11'18" |
STAGE RESULTS
PHOTO GALLERY
Check out images from the event in our 2013 Vital Signs Tour de Lakes Photo Gallery, courtesy of Robyn Edie and the Southland Times.
Monday Morning Update - 1/4/2013
Scott Thomas rode to an impressive solo victory in this morning's penultimate stage of the 2013 Vital Signs Tour de Lakes. His 41 second victory made it three stage wins on tour, to go with his prologue and individual time trial wins and pushed him within a place of the podium to sit fourth overall just over two and a half minutes off the lead.
Alex McGregor consolidated his grip on yellow, finishing safely in the bunch along with the rest of the top 14 on general classification to mean he will take a 1'50" lead into this afternoon's final 45 kilometre climb to Moke Lake.
B grade will go all the way to the final climb with the top 15 all finishing in the bunch, 28 seconds behind solo stage winner Geoff Taylor. Michael White will take an eight second lead over Glenn Gould into the final stage with Lee Johnstone threatening a further eight seconds in arrears.
No changes in C Grade with the top ten all finishing in a bunch sprint. Alan Strong took the stage win in a photo from Andrew Lienert, who draws within 11 seconds of Tour leader Scott Molina heading into stage six. just 27 seconds separate the top four overall with Dave lawson (third) and Harrison Steedman (fourth) all within touch of the lead.
In contrast, the Women's grade is Linda Villumsen's to lose. She finished in the five-women break this morning along with the rest of the top six and will take a seemingly insurmountable 2'36" lead into this afternoon. Laura Fairweather moved into second spot with Gabrielle Vermunt third at 2'58". Lauren Ellis claimed the stage win in a sprint finish.
Two classifications changed hands on the final stage in last year's Tour. The 45 kilometre stage from Glenorchy to Moke Lake starts at midday and should provide plenty of action, particulalry in B and C grades.
Sunday Afternoon Update - 31/3/2013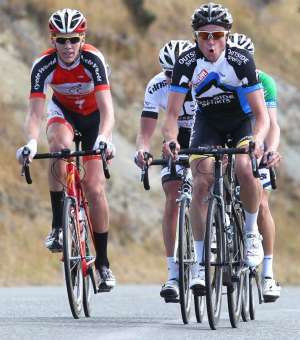 After Linda Villumsen and Scott Molina made moves in the morning Individual Time Trial, Sunday afternoon's stage from Te Anau to Five Rivers saw three yellow jerseys change hands on what may well be a defining stage on the 2013 Vital Signs Tour de Lakes.
Alex McGregor started the stage 28 seconds down on leader Luke MacPherson, but after getting himself in an early break, he ended the day with a 1 minute 50 buffer on second-placed MacPherson. Thomas Hubbard took the stage win over Matt Zenovich with the pair moving in to fifth and sixth respectively while Sam Friend's fourth place has pushed him right into contention for a podium finish in third overall, 1:56 down on Tour leader McGregor.
B grade remains a close affair with a nine man bunch sharing the same time at the Stage 4 finish. Lee Johnstone took the stage win ahead of Mike White and with race leader Glenn Gould being gapped at the finish to finish 23 seconds down of the front bunch, White moved into yellow with a 6 second margin on Gould with Johnstone a further 12 seconds back in third.
Jordan Gilmore added yet another stage victory in C grade, claiming the sprint finish in front of Dave Lawson and Andrew Lienert. Scott Molina rolled across right behind the leading bunch and will take a 15 second buffer into the final day over Lienert and 21 seconds in front of Lawson.
The major change came in the Women's grade where Lauren Ellis, Laura Fairweather, Linda Villumsen and Hayley Mercer got away and took over 3 minutes out of the rest of the field. After smashing the field in the morning time trial, followed by spending the afternoon in the break, Villumsen now has a 2'34" lead overall ahead of Mercer, Fairweather (@ 2'40") and last night's leader gabby Vermunt (@ 3'00")
The 2013 Tour concludes with a morning 50 kilometre stage from Fern Hill to Glenorchy, followed by the hill top finish from Glenorchy to Moke Lake in the afternoon.
Sunday Morning Update - 31/3/2013
Multiple World championship medalist Linda Villumsen made the major move in this morning's Tour de Lakes Individual Time Trial from Manapouri to Te Anau.
The New Zealand representative who will soon take up a spot on the Wiggle Honda Pro Cycling team smashed the rest of the Women's field in recording the fastest women's time (and eighth fastest overall time) over the 20 kilometres to draw within just three second of women's race leader Gabby Vermunt.
The tour leader did well to limit the damage to 1:40 and maintain her overall lead which sets up a fascinating final three stages. Laura Fairweather finished third, within a second of Vermunt and moved in to the top five in the process.
Similarly, Scott Molina made his move in C grade, snatching yellow and opening up a 17 second overall lead on Andrew Lienert. Starting the day just a second down on the race lead, Molina recorded 29'02 for the 20 kilomtres ahead of Lienert and Dave Lawson who jumped in to fourth spot overall, 32 seconds down on yellow.
Geoff Taylor claimed an 8 second victory in B grade with tour leader Glenn Gould second fastest to marginally extend his overall lead over Mike White (third in the Time trial) to 21 seconds. White, in turn, has a 20 second buffer Lee Johnstone who sits third overall at 41 seconds.
Scott Thomas backed up his Prologue victory with an equally-impressive Time Trial win by 16 seconds over Alex McGregor with race leader Luke MacPherson a further 10 seconds back in third.
MacPherson's lead going in to this afternoon's 80 kilometre stage from Te Anau to Five Rivers is 28 seconds over MCGregor with Tim Rush holding third overall at 58 seconds.
Saturday update - 30/3/2013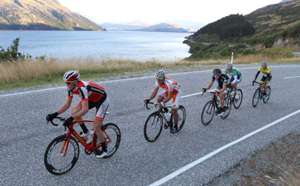 A break of five riders controlled took control of A Grade in the morning stage from the Remarkables to Five Rivers. Alex McGregor, Tim Rush, Bradley Tuhi, Matt Zenovich and Luke McPherson got away and stayed away with Zenovich taking the stage and McGregor taking yellow.
The afternoon 80 kilometre stage to Manapouri was claimed by Gordon McCauley who bounced back from dropping 8 minutes on the leaders to attack a kilometre from the finish and hold on for a morale-boosting victory.
McPherson leads by just three seconds over Tuhi with Rush a further two seconds adrift in third.
The morning B Grade stage was won by Derek Tan from Lee Johnstone and Michael White with Johnstone, riding for the Warmup Cycling Team, backing up to win the afternoon stage with Glen Gould maintaining his overall lead on GC. His margin is just 12 seconds from White with Johnstone third at 22 seconds.
It was Jordan Gilmore's day in C grade, with the Wakatipu rider claiming both stage victories with Andrew Lienert taking two second place finishes and holding the narrowest of leads on overall GC. Former world triathlon champion Scott molina sits second, a solitary second behind Lienert with Golmore third, a further second in arrears.
Breakaway victories were the order of the day in the Women's grade with a breakaway of three sharing the honours in the morning stage to Five Rivers. Gabby Vermunt took the stage win and yellow over Hayley Mercer and Elyse Fraser, while in the afternoon Lauren Ellis took an impressive long solo victory with Cathy Jordan leading the rest home in second, 18 seconds later. Vermunt holds the largest of all GC leads at 28 seconds from Mercer and Fraser in third at 1:05.
Sunday's racing starts with a 20km Individual Time Trial from Manapouri to Te Anau at 9:30, followed by the afternoon 80 kilometre stage from Te Anau to Five Rivers.
Friday Update - 29/3/2013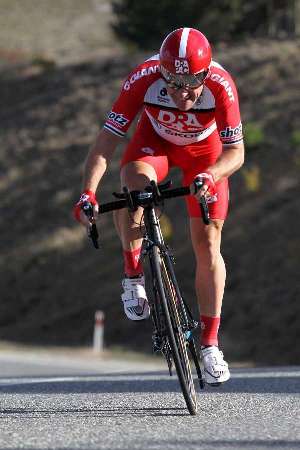 The 2013 edition of the Vital Signs Tour de Lakes started in beautifully fine, blustery conditions in Bannockburn this afternoon with the traditional 5 kilometre Prologue time trial to Cromwell.
Scott Thomas claimed first blood in A grade, cutting out the distance in 7'15 to claim victory by a solitary second over impressive Under 19 rider Liam Aitcheson of Alexandra. Brad Evans finish third, a further two seconds adrift.
B grade was won by Glenn Gould in 7'33, 14 seconds clear of Michael White with John McKenzie claiming third, while Scott Molina took out C grade in front of Harrison Steedman and Andrew Lienert.
No surprises to see Linda Villumsen atop the Women's Grade leaderboard, 16 seconds clear of Laura Fairweather, with Gabby Vermunt in third.
Racing starts in earnest on Saturday with the morning stage covering 80 kilometres for A and B Grades from the Remarkables to Five Rivers, while C Grade and the Women cover 45 kilometres, starting at Kingston. The afternoon stage is 80 kilometres for all grades, from Five Rivers to Manapouri.
EVENT SCHEDULE
Friday 29th March 2013
2:00pm - Race briefing Cromwell. Sponsored by Golden Gate Lodge
Prologue
3:30pm - Individual Time Trial 5km Cromwell. Sponsored by Gary Anderson Hi Fi & Cromwell Districts Promotions Group
Easter Saturday 30th March 2013
Stage One
8:30am - Remarkables to Five Rivers. Sponsored by Five Rivers Cafe & Graeme Atkinson, Seaton Exhausts Ladies Grade, Stage Sponsored by Dr Ajit Johri Sports Med South
A & B Grade Start Remarkables 80km
C Grade & Ladies Start Kingston 45km
Stage Two
1:00pm - Five Rivers to Manapouri 80km (all grades). Sponsored by Glowing Sky & James S Mee Solicitor
Easter Sunday 31st 2013
Stage Three
9:30am - Manapouri to Te Anau 20km Time Trial. Sponsored by Ajit Johri Sports Med South & Sand Fly Cafe Te Anau
Stage Four
1:00pm - Te Anau to Five Rivers 80km. Sponsored by Five Rivers Cafe & Graham Williamson X Factor Cars
Easter Monday 1st April 2013
Stage Five
8:15am - Fern Hill Queenstown to Glenorchy 50km (Hilly Section). Sponsored by Glenorchy Lodge & Glowing Sky
Stage Six
12:00pm - Glenorchy to Moke Lake 45km (Hill Top Finish). Sponsored by Graeme Atkinson & Lone Star Queenstown
7:30pm - Dinner Presentation and Awards. Millennium Hotel Queenstown, bar opens 6.15pm
Please note all distances are approximate.
Further enquiries phone Allan Dunn 021 773 701 or 027 773 7050
**ATTENTION ALL COMPETITORS**
Tour de Lakes Specific Race Regulations
In this stage race, the same bicycle shall be used in all stages, standard road bikes fitted with standard road wheels including the Time Trials. (No disk wheels allowed) The only exception will be in the event of a breakage. Handlebars must be of a standard or classic style, but bolt on handlebar extensions are permitted for the Time Trial stage.
SPONSORS
HISTORY
The original event was organised during the 1960's by the Glengarry Amateur Cycling Club. The tour started in Invercargill and the cyclist raced to Queenstown on Queens Birthday Weekend . There were three stages held on the Saturday on the trip to Queenstown and on the Sunday there were two stages held in and around Queenstown.
The old car racing circuit in down town Queenstown was usually used for a criterium to finish the event (imagine using that circuit these days). The weather was generally terrible, snow, hail or frost were all part of usual winter conditions that greeted the hardened riders each year.
1991 saw the last Queenstown tour as it was then known and it quietly disappeared from the radar until I re-started it in 1996. The Tour was again held at Queen's Birthday Weekend and was slammed together in six weeks. Snow greeted the riders at the start in Winton that year and the tour start was moved north to Lumsden so that it would be safe to continue.
Gordon McCauley easily won that year and complained that a little bit of snow affected the distance of the race. The following year I moved the event to Easter Weekend and we raced in Autumn not Winter to most riders approval. That year the event was still two days with three stages up to Queenstown on Saturday followed by two stages on the Sunday, a stage race around Arrowtown and a criterium at Frankton.
1998 saw the event start in Queenstown and become a four day race with a Prologue up Fern Hill.
Starting in Queenstown made the event even more popular with riders getting away from the colder Southland conditions during Easter. That year the tour took in Cromwell for the first time and became the Cromwell-Queenstown Cycling Tour.
Cromwell is still a big part of this race and the race briefing and Prologue Time Trial are held their every year. The Tour de Lakes now travels into Fiordland taking in Five Rivers, Mossburn, Manapouri and Te Anau. The idea in travelling down and into Fiorland was to get away from traffic problems every two years caused by the War Birds over Wanaka Air Show.
Also introduced in recent years was the two stages in and out of Glenorchy with the tour finishing on the big climb up to Moke Lake. A dinner presentation and buffet meal are held at the conclusion of the event at Queenstown's Millennium Hotel where the original trophies are still presented. Names like Brian Fowler, Blair Stockwell, Glen McLeay and Triathlete Chris Gemmell show the class of rider to have won this event.
There are some other very special trophies awarded each year during racing. The sportsmanship award in memory of young Southland cyclist Stuart McLean brings a lump to my throat each year when it is presented.
The James Faulding Memorial Award for the first A Grade rider to cross the line in Glenorchy is eagerly contested. James was hit by a car while training in Dunedin a few weeks after competing with distinction in his first Tour de Lakes. James was a fine young man with a lot of talent.
LADIES GRADE
This year we will continue to offer women riders the same opportunities as the men by giving the women their own race with the leaders classifications. This road race is growing in popularity with women riders of all grades.
So come on girls - enter today!
ACCOMMODATION
In regards to accommodation for the 2013 event we have special rates available at Millennium Queenstown and Manapouri Lakeview Motor Inn, however, to receive the special rate you must phone the hotel/motels and quote "Tour de Lakes."
Allan Dunn
Race Organiser